AUTHOR
Dr. Jennifer Shulman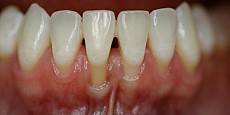 Gum Recession: Causes, Symptoms, and Treatment Options
Gum recession is a common dental problem that occurs when the gum tissue that surrounds and supports your teeth begins to pull back or wear away, exposing the tooth's root. If left untreated, this disease can lead to sensitivity, discomfort, and even tooth loss. To stop further harm to your teeth and gums, it's critical to seek treatment from a dentist as soon as you think you have gum recession.
Here, we'll discuss the causes, symptoms, and treatment options for gum recession.
Causes of Gum Recession
Gum recession can be caused by a variety of factors, including:
1. Brushing too hard: Overbrushing or using a toothbrush with hard bristles can cause the gum tissue to wear away, leading to gum recession.
2. Periodontal disease: If left unchecked, this bacterial infection of the bone and gums that support your teeth can result in gum recession.
3. Genetics: Some individuals may be more genetically predisposed to gum recession.
4. Hormonal alterations: Gum decline is more likely to happen if there are hormonal alterations during pregnancy or menopause.
5. Tobacco use: Smoking or using other tobacco products can make tooth recession more likely.
6. Grinding or clenching your teeth can place undue strain on the gums and cause recession.
Gum
Read more