Christina
Christina has her diploma in Dental Hygiene since 2009 and her diploma in Dental Assisting Levels I and II since 2007. Christina has been loving the profession ever since. Her goal is to build relationships and ensure her patients have optimal dental care. She is knowledgable in all aspects of dentistry to ensure comfortable and successful dental visits. Christina is proud to be a part of our team!
Rosanna
Rosanna began her dental hygiene career after graduating from Niagara College in 2002. She is experienced in all clincial aspects of dental hygiene and strives to stay current in the field by her involvement in dental study groups, clinics and associations. She values each patient who walks in the door and enjoys helping them get the best dental care Innovation Drive Dental offers. She truly enjoys fostering relationships with her clients and is devoted to educating her patients on their individual needs and current oral health. She brings a level of energy and compassion that she hopes will make your visit less stressful and more satisfying. Rosanna has a special interest in periodontal treatment and enjoys treating her "youngest of patients". Rosanna is married and has 3 beautiful children and a Miniature Pincer named Zoey. She loves movie time with her family, music, baking and socializing with friends. Rosanna loves the positive, energetic and encouraging atmosphere of Innovation Drive Dental. This energy motivates her personal growth and her commitment to excellence. She is a proud member of our dental team!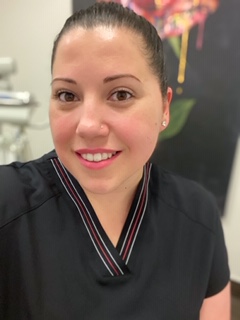 Natalie
Natalie has been working at Innovation Dental since 2009 when she graduated as a Level II dental assistant. She has since gone back to school to become a Dental Hygienist and upgraded to a Restorative Dental Hygienist, and an Ortho Hygienist . Natalie will be taking Christina maternity leave.
Simona
With a background in economics and commerce, Simona worked as a bookkeeper until she discovered passion for dentistry. Having successfully completed a dental assisting program in 2008, Simona continued her education in Dental Hygiene and graduated with honours in 2011 from The College of Dental Hygiene of Ontario. Her goal is to educate herself and her patients, while maintaining good overall health of each individual. Simona is fluent in Romanian and English. She also has a good understanding of Hungarian and Spanish. When not working, Simona enjoys spending time with her family, reading, writing, travel and good food!
Sarah
Meet Sarah, a Registered Dental Hygienist, and the newest member of our amazing team! Sarah loves helping patients of all ages to achieve a healthy smile. Once completing her education at York University she briefly worked abroad and when returning home decided to switch careers. She has five dentists in her family which helped guide her into the Hygiene career. Sarah graduated with Honours in 2018 from The Toronto College of Dental Hygiene. She was awarded the Colgate S.T.A.R award for demonstrating true dedication to the profession, exhibiting extraordinary compassion with patients, and demonstrating outstanding patient education and motivation skills. She is known for her bright personality and in-depth knowledge about various dental procedures. She enjoys all aspects of dentistry with a special interest in periodontics. She enjoys keeping pace with advancing dental technology and products that best suit her patient's needs. Outside of work Sarah runs two Girl Guide units in the Woodbridge area and can be found enthusiastically volunteering her time out in the community.