AUTHOR
Dr. Shulman
What are Tonsil Stones- and How Do You Get Rid of Them?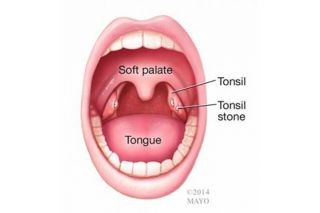 Tonsil stones, also called tonsilloliths, are areas of hard yellow-white calcification, located on or within the tonsils. Some people are aware of them but many people don't even know they have them. They can range in size, and can cause the tonsils to swell or become infected. Patients main concern is that they often give off a bad odor, and cause bad breath.
Your tonsils are made up of crevices, tunnels, and pits called tonsil crypts. Different types of debris, such as dead cells, mucus, saliva, and food, can get trapped in these pockets and build up. Bacteria and fungi feed on this buildup and cause a distinct odor. Overtime the debris hardens. Tonsils stones are more common in patients with poor dental hygiene, large tonsils, chronic sinus issues or tonsillitis. Some symptoms of tonsil stones can include: bad breath, difficulty swallowing, ear or throat pain, ongoing cough, swollen tonsils, or white or yellow debris on the tonsils. Here at Innovation Drive Dental in Vaughan, we can remove these stones quite easily and painlessly.
Read more