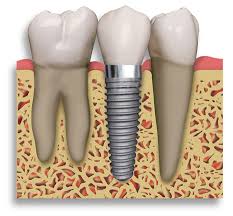 While some may consider dental implants "modern day dentistry", you may be surprised to learn that it dates back to ancient Egyptian times.
In 1952, orthopaedic surgeon Per-Ingvar Brånemark, the father of modern day implantology, was researching bone healing and regeneration at Lund University. During this time, he adopted the rabbit ear chamber (a study that was conducted at the University of Cambridge in which a chamber of titanium was embedded into the soft tissue of the ears of rabbits to study blood flow in vivo) to use in a rabbit's femur. When he had completed the study, he attempted to remove the titanium chambers from the femur, and noticed that the bone had grown back so close to the titanium that the bone and the chambers were almost fused together.
Although Brånemark had originally planned on using this discovery for hip and knee surgery, he decided that because of the high rate of edentulism (missing teeth) in the general population, he would use this discovery towards the replacement of missing teeth. Today, many dental offices still use Brånemark's dental implant system.
But hold on a second… implants go further back than that!
There is evidence that dates back to 4000 years ago in China. Archaeologists found carved bamboo pegs tapped into jaw bone to replace lost teeth. Evidence from 2000 years ago in ancient Egypt shows similar pegs made out of metal, as well as transplanted human teeth and some teeth made of ivory.
The most remarkable discovery of all was back in 1931 in Hondouras. Archaeolosist  Wilson Popenoe and his wife found the lower jaw bone of a Mayan woman dating back to 600AD. The jaw showed 3 missing teeth that had been replaced with shell carved into the shapes of teeth. Bone growth and calculus around these implants proves that this method was not only esthetic but functional as well.