The other day we had a patient (who happens to be a teacher) running late for her dental appointment. When she arrived at the office she informed us that one of her students had their tooth knocked out during gym class. She was busy writing up an incident report and that was why she was late. When Dr. Shulman asked what protocol was taken to ensure the life of the tooth, the teacher informed her that no protocol was taken; they were not told what to do when an event like this took place.
So, here it is…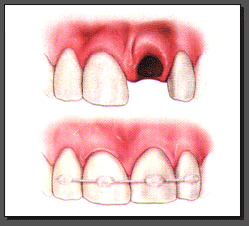 What should be done when a tooth is knocked out (permanent/adult teeth only)?
Make sure to handle the tooth carefully. Try to hold the tooth by the crown (the white part), the root (pointy part) of the tooth is soft and can be easily damaged. Try not to touch the root if possible.
If the tooth is dirty, try to rinse it with milk (if available) if not, you can use lukewarm water. Do not scrub.
Gently rinse mouth and, if possible, try to position the tooth back into the socket (this should be done within 5 minutes) and then bite down on a clean towel/paper towel to put pressure on the tooth and keep in place.
If you are unable to get the tooth back in, the tooth should be kept moist. Your best bet is to place the tooth in a cup of milk (if readily available). If there is no access to milk, spit into a cup and let the tooth sit in saliva, or you can place the tooth in your mouth beside your cheek.
Go see your dentist immediately (this should be done within an hour of the incident). The tooth can be saved, but time is of the essence. When a tooth is knocked out, the nerves and blood vessels are damaged as well. Because of this, the tooth will require root canal treatment.
What will be done once you have arrived at the dental office?
Your dentist will assess the state of your tooth, gums and bone and take an x-ray. Depending on the impact, there is a possibility of bone fracture in your mouth.
They will then try to reposition the tooth in the correct place.
A root canal may be done immediately, or your dentist may choose to wait depending on what they see.
For best result, your dentist will splint your tooth to the neighbouring teeth using a wire and some composite (filling material). This acts like a cast. It holds the tooth in place and prevents unwanted movement so that your bone can start to reattach to the tooth. You will be placed on antibiotics to prevent infection.
You dentist will want to monitor the health and progression of this tooth weekly for about 6-8 weeks and then at your regular 6 month check-up.
If the tooth is not salvageable your dentist will discuss options to properly replace your missing tooth and get your beautiful smile back ☺